Guanella Pass Scenic Byway: Snapshot of the Rockies
One of the best ways to introduce or reintroduce yourself to Colorado's Rocky Mountains is to take a drive down the Guanella Pass Scenic Byway between the towns of Grant and Georgetown.
You'll climb to timberline at 11,669 feet, while taking in views of Mount Bierstadt and Mount Evans, as well as the alpine tundra and groves of pine and aspen as you descend, giving you a perfect snapshot of Colorado's ecosystems. Wildlife abounds along Guanella Pass, with the opportunity to catch bighorn sheep, beavers, elk and bald eagles, among many others, offering plenty of photo opportunities.
One of the most popular times to travel the Guanella Pass Byway is September through early October, as brilliant fall foliage abounds around you during this time of year.
Camping, Hiking, and Fishing from Guanella Pass
To more fully immerse yourself in the natural beauty of the area, Guanella Pass offers diverse outdoor experiences. Visitors to the area and locals alike enjoy hiking Mount Bierstadt (14,065ft), which provides a relatively easy fourteener climbing experience. In addition, you can embark to explore Mount Evans on a trail connecting to the pass, or you can opt to drive up Mount Evans.
Guanella Pass Campground
If you want to rough it for your Guanella Pass experience, you can pitch a tent at the Guanella Pass Campground on Clear Creek where you can enjoy exploring the river or fishing. The nearby South Fork of Clear Creek is a small stream that's perfect for beginner fishing and fly fishing alike, both due to its easy accessibility and the number of fish you're likely to catch. You can fish near your campground and at a few other points as you head upstream. Clear Creek offers more than 20 miles of fishable water, full of rainbow and brown trout. Those who fish the South Fork area may find themselves catching over 50 fish in a day.
You can begin your scenic journey from the town of Grant off of US 285 by heading north on the Guanella Pass Byway. A short 22 miles and countless breathtaking views later, you'll arrive at downtown Georgetown, CO, a historic mining town that is a perfect snapshot of Colorado's scenery, history and culture in its own right. Allow an hour to fully take in the uniqueness and diversity of ecosystems as you travel along the byway, which connects US 285 and I-70.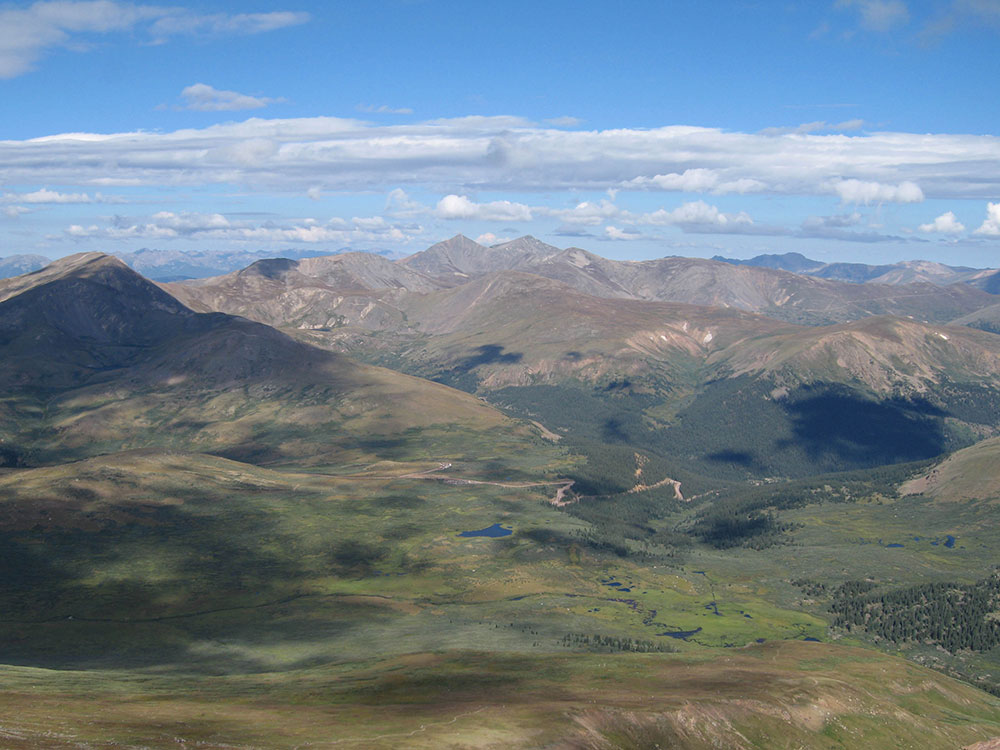 Image Courtesy of Wikipedia
Georgetown: A Snapshot of Colorado History
Historically a mining town, Georgetown, CO is surrounded by spectacular scenery and showcases well-preserved history. Take shorter city walks or longer hikes to the backcountry, stay in one of Georgetown's historic hotels and enjoy cuisine ranging from bar grub to Mexican, to Victorian high tea, all while enveloped in wondrous scenery and Colorado's mining history.
Incorporated in 1868, Georgetown began as a miner's camp that experienced an unfortunate geographical issue: The area was rich in mineral deposits, but freight options were limited. However, in 1877 Jay Gould was responsible for bringing the Colorado Central Railroad to the mining camp, allowing for Georgetown's fortunes in the mines to be transported to smelters in Denver via this connection between Georgetown and Silver Plume. This new rail line boosted the local economy and transformed Georgetown into a service community for other mining camps.
Enjoying Georgetown by Rail
One of the greatest engineering feats of its time, the Georgetown Loop Railroad offers passengers a hands-free, scenic journey through a forested gorge rich and silver mining history. The train trip alone takes 1 hour and 15 minutes, with the added mine tour making the experience about 2 ½ hours.
Owned by History Colorado, the Georgetown Loop offers photo-worthy views and includes a bridge that spans 93 feet above Clear Creek. In addition to the scenery, you also have the option of donning a hard hat and exploring the Lebanon Silver Mine with a tour guide through 500 feet of this legendary mine. You can board for your train ride at either the Silver Plume boarding site or the Devil's Gate boarding area in Georgetown.
Stay Awhile in Georgetown
If you want to extend your awe-inspiring visit to the area, you can stay in one of Georgetown's modest or fine hotels, including Hotel de Paris and museum, where you can learn about the self-sacrifice and dedication to hard work behind establishing this legendary hotel. For a more social lodging experience, stay at Rose Street Bed and Breakfast, or take advantage of the many Georgetown Air BnB opportunities.
Dine in Georgetown
Georgetown offers a wide variety of restaurants, diners, bars, bakeries and coffee shops. For casual but refined dining, try Cooper's on the Creek, where you can feast on a Cooper Burger or savor Bleu Cheese Mac n Cheese. If you're looking to unwind, Guanella Pass Brewing Company offers a wide selection of craft beers.
Visit Grant, Colorado
Stop off in Grant for an overnight stay at the Tumbling River Ranch, from where you can embark for one of the many hiking trails nearby, including the Burning Bear Trail and the Shelf Lake Trail. In addition, Grant lies just 6 miles east of Kenosha Pass, which boasts two recreation areas with campgrounds and numerous trails. Grant is also located south of the Mount Evans Wilderness Area and humbly offers one quintessential road trip cafe: The Shaggy Sheep.
Traveling the Guanella Pass Byway can involve much more than fantastic views. There are many places to explore more fully along the way, as the byway provides access to several trailheads. Clear Creek is great to fish, especially for children or beginner anglers. Historic hotels can make your stay in Georgetown more luxurious, or you can sleep under the stars at one of the campgrounds along the byway. From fine dining to leisurely lunches, to bar grub, there's a dish for everyone at one Georgetown's restaurants, cafes, or bars. Let's just say that there is enough to do around Georgetown and the Guanella Pass to kick off your boots and stay awhile.